I'm a white girl from Canada, but my favourite food is Jamaican.
That's my soul food.
My mother always made Irish-style stew with left-over turkey or beef.
Some nights went like this:
"What's for dinner?"
"Stew."
"Aw! Again?!"
Someday, in my house, it might be like this:
"What's for dinner?"
"Jerk chicken, rice and peas."
"Aw, again?!"
My first taste of jerk chicken was at Caribbean Flavours in Ottawa on Somerset Street. When I first moved out on my own, I lived in Chinatown and Caribbean Flavours was across the laundry mat. Sitting on the stoop, I'd sip on a home-brew ginger beer, waiting for the spin cycle to end.
This was the first and the best jerk chicken I've ever eaten. I've tried countless other places in Montreal, Ottawa and Toronto. The next best I've had was when I made a trek across Brooklyn to Peppa's jerk chicken near Prospect Park. But nothing has come close to the smoky, rich, spiciness of Frederick's chicken at Carribean Flavours. And though it is a modest restaurant without refined decor, it has careful touches such as a rim of nutmeg on the ginger beer glass, a dish of cardamom pods on each table to crack open and nibble on, and freshly-ironed linen on the tables. After a fire burned down the restaurant, Frederick reopened on Carling Avenue just west of Churchill. Even though it's kind of out of the way, I try to make it out at least once a year when I'm visiting Ottawa.

a compilation of soul tracks covered by reggae artists
The secret to Frederick's jerk chicken is his homemade marinade. Most people buy the sauce or rub. In fact I was really sad to see Chuck Hughes use a jar for his jerk recipe on his new Food Network show. Come on, Chuck, teach me something!
I did have his jerk crab at
Garde-Manger
, his upbeat, creative restaurant in Old Montreal. I'll admit, it was amazing.
(bottle or homemade, serato or vinyl?)
I have yet to take Frederick up on his offer to show me how
he prepares his chicken. In the meantime, I am indebted to
jamaicatravelandculture.com
for their recipes.
I've made my own variations on them...
JERK CHICKEN WITH RICE&PEAS AND GRILLED PLANTAIN
Chicken:
Use any part of the chicken you'd like.
I prefer drumsticks and thighs with the backs attached,
both with the skin on.
This is enough sauce to feed 8 people minimum,
so I'd say 8 thighs and 8 drumsticks.
Throw in a few chicken breasts for picky eaters.
Poke holes in the meat and marinate for a looooong time,
preferably overnight. Keep 1/2 cup of marinade for later.
To prepare the marinade,
mix together all this stuff in a blender:
4 sliced scotch bonnet peppers
3 Tbsp. thyme
3 Tbsp. ground allspice
8 Cloves garlic, finely chopped
3 Medium onions, finely chopped
1 red pepper, finely chopped
2 Tbsp. tomato paste
2 Tbsp. brown sugar
1 Tbsp. salt
2 Tsp. ground black pepper
1 Tsp ground cinnamon
1 Tsp nutmeg
1 Tsp ginger
1/2 cup olive oil
1/2 cup soy sauce
Juice of one lime
1 cup orange juice
1 cup white vinegar
The best jerk chicken has a smoky taste that comes
from a charcoal grill. But since I don't have this option,
this is how I prepare it:
In an oven preheated to 300F/175C, roast the chicken for 3 hours in a roasting pan covered with foil. After the 3 hours, pour out most of the liquid from the pan (save it and make a yummy gravy!) Pour the remaining marinade over the chicken and set the oven to broil for 15 minutes, or until the chicken is crispy and the sauce has darkened considerably.
Rice&Peas:
3 cups of white jasmine rice
1 can of tinned peas (either kidney beans or pigeon peas)
5 cloves of garlic (finely chopped)
3 spring onions
1 tsp salt
1 tsp black pepper
3 tsp thyme
2 tbsp ground allspice
1 cup coconut milk
2 3/4 cup water
Bring to a boil, uncovered.
Then reduce heat to 2, cover and cook for 15-20 minutes.
Plantains:
Use very ripe plantains that are yellowish-black.
Fry them in a very hot pan with a little bit of butter,
until they're golden brown with a touch of black.
Miko is holding a bottle of
Matouk's West Indian Hot Sauce.
Amazing with this meal. See? I use bottled stuff too.
(I also use serato)
Check out the trailer for
Rocksteady : The Roots of Reggae
which premiered in Montreal and features an appearance by
Montreal's own reggae selecta and producer Mossman.
"Music can heal you.
Music can make you happy.
Music touches where a doctor can never go: to the soul."
- Judy Mowatt
RUBY JANE SNACK MIX!
I recenly had the honour to join DJ Static in the wefunkradio studio
for a funk-hiphop-soul session. I only used vinyl for this one.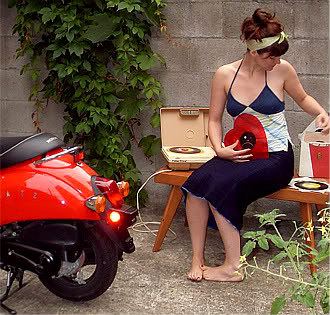 click the picture for the show